Saluki Tri-Fitness Challenge
Main Content
The 3rd Annual Saluki Tri-Fitness Challenge event begins Monday, February 1 and will conclude on February 28. Students and members of the Student Recreation Center are invited to sign up for the challenge of swimming 2 miles, running 26 miles, and biking 112 miles.

You have four weeks to complete the challenge and you can compete as an individual or as a team. Those who complete the challenge will receive a one-of-a-kind 2021 Saluki Tri-Fitness Challenge t-shirt.
Get ready on Feb. 1, 2021 to record your mileage in the Personal Fitness and Wellness Studio (PFWS). There will be a binder on the front desk, please follow the instructions and complete the challenge! 
Registration
Registration is open for any SIU students or SRC Members looking to join the event. To do so, stop by and register at Member Services or click the link below.
Price for participation is $15 per participant.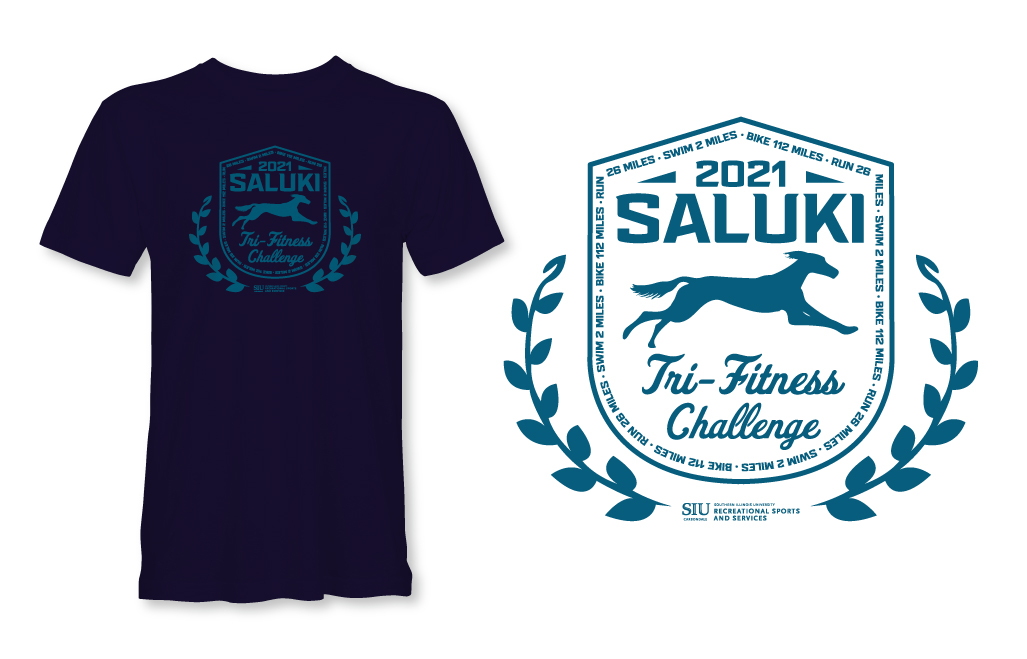 Frequently Asked Questions:
When is the Saluki Tri-Challenge Event?
Monday, February 1st – Sunday, February 28th  
Can I signup after the 1st?  
Yes, however, you have fewer days to complete the mileage
How many people do I need for a team?
Three people per team - $15 per person
Each person is to complete one of the three events
All three events have to be completed to be considered a Team Finisher
Can I sign up for both team and Individual?
Yes, however, you will have to complete double the distance for one event

Example: Run – 52 miles, Bike 224 miles, Swim 4 miles

You will have to pay $30 - $15 for the individual and $15 for the team
How do I track my miles?
Track your own miles and log them in the Personal Fitness and Wellness Studio
It is based on the honor system – don't cheat yourself!
Individual – log by last name
Team – Log by team name
How much do I have to swim?
Short Course: 132 Lengths or 66 Laps
Long Course: 66 Lengths or 33 Laps
Attending Aqua Class: 10 Laps
Can I complete the events in any order?
Yes, you can swim and bike a few miles one day and run the next if you'd like!
What are the pool hours?
Monday-Friday: 6 a.m.- 9 a.m., 11 a.m.- 2 p.m., 5 p.m.- 9 p.m.
Saturday: noon- 8 p.m.
Sunday: 1 p.m.- 8 p.m.
How do I get a t-shirt?
You must complete the full mileage in each event to receive a t-shirt. If the mileage is not completed, you will not receive a t-shirt.