Saluki Triathlon
Main Content

SIU Recreational Sports & Services is excited to host our annual sprint distance triathlon: Saluki Triathlon! Whether you are an avid triathlete or a first-time competitor, we hope you enjoy competing on our beautiful campus while testing your abilities at swimming, cycling, and running.
Distances include a 0.2 mi swim in Campus Lake starting and ending at the Becker Pavilion "beachfront," a 5 mi bike course hugging the south and west side of campus, and a 2 mi run on the trail around Campus Lake.
This event is open to individuals and teams age 12+.Due to timing preparations, pre-race day registration is required, and no new registrations will be accepted on the day of the race. Reserve your spot now at only $35 for individual entry or $90 for Team entry. 
The triathlon and duathlon events both begin at 8:00 a.m., so you cannot register for both events.
We've added a second option this year! Register for the Saluki Duathlon to omit the swim portion of the race. The Saluki Duathlon consists of a 5 mi bike course and a 2 mi run around campus lake, just like the triathlon. The Saluki Duathlon is open to individuals of all ages, and children that are eight years old or younger can register free of charge.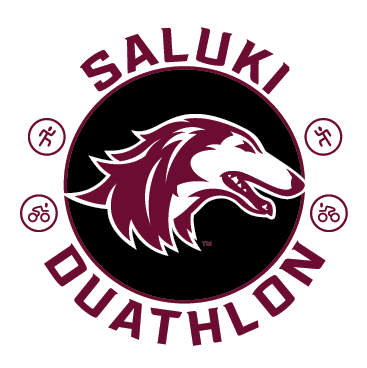 Are you interested in volunteering for the Saluki Triathlon? We are seeking volunteers to assist with safety and directions during the bicycling and running phases of the triathlon.