Rental Center
Main Content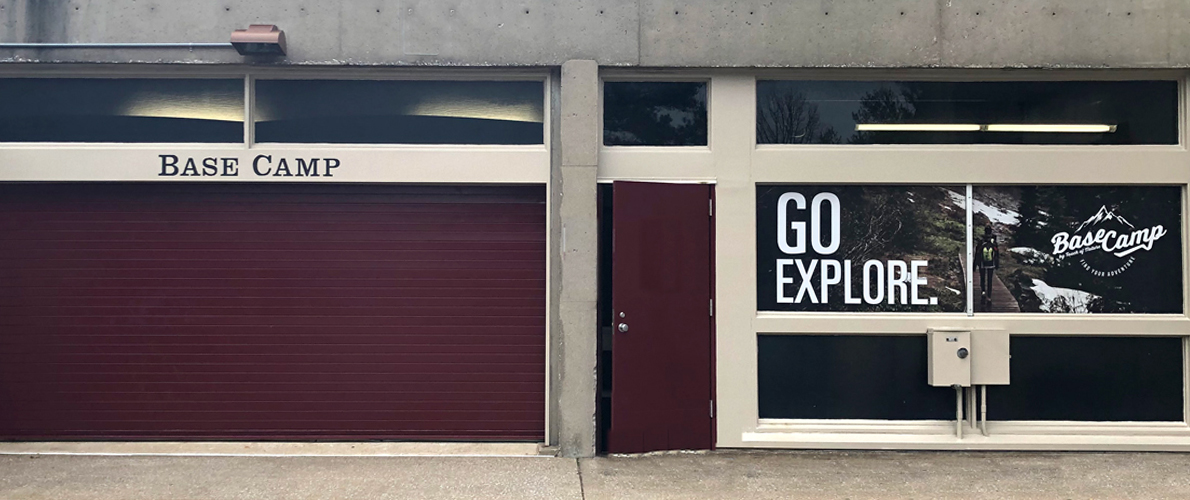 Hours of operation Fall Semester:
Rentals: Fridays from 5:00 - 7:00 p.m. 
Returns: Mondays from 5:00 - 7:00 p.m. 
Hours of operation Spring Semester (Begins March 4, 2022):
Rentals: Fridays from 4:00 - 8:00 p.m.
Returns: Mondays from 4:00 - 8:00 p.m. 
Location: Come find us across the hallway from the west weight room.
---
Rental Fees
Rental fees may be paid with cash or credit card. No refunds will be made for any equipment rented, and not utilized. Individuals do not need to have a Rec Center membership to rent items. Non-members must have a valid state ID.
Penalty Fees
Persons returning equipment after the designated due date will be charged a late fee. Cleaning and drying fees may also be charged. It is suggested that you rent equipment one extra day to allow for cleaning. Those who damage or lose equipment will be charged to repair or replace it.

Renters are encouraged to check the condition of all gear before leaving Base Camp. Renters are responsible for the condition of all gear once they leave. If the gear is not returned in the same condition as loaned out, fees will be assessed. A charging fees list is available through Base Camp upon request.
Improper Equipment Return
If rental equipment is not returned during Basecamp hours, an improper return and/or late fee will be charged.
Base Camp Equipment Rental Pricing
Tents/Shelter
Item
Overnight
Add. Night
Tarp (Sleeping Shelter)
$10
$5
2-Person Tent
$14
$7
3-Person Tent
$16
$8
4-Person Tent
$18
$9
Backpacks and Trekking
Item
Overnight
Add. Night
Multi-Day Pack
$12
$6
Sleeping Equipment
Item
Overnight
Add. Night
Sleeping Bag (Includes Pad)
$10
$5
Sleeping Pad (Pad Only)
$6
$3
Camp Pillow
$4
$2
Cooking and Camping
Item
Overnight
Add. Night
Camp Chair
$8
$4
Backpacking Stove
$12
$6
2-Burner Stove
$12
$6
Cook Set (Pots)
$8
$4
Cooler (Food)
$6
$3
Cooler (Water)
$6
$3
Large Water Drom
$4
$2
Trowel
$4
$2
Headlamp
$6
$3
Watercraft Kit
Watercraft Kits Include: 2 Straps, 2 Pads, 1 Paddle, and 1 PFD per seat in the boat.
Item
Overnight
Add. Night
Canoe
$30
$15
Kayak
$30
$15
Kayak (Tandem)
$30
$15
Stand Up Paddleboard
$30
$15
Watercraft Accessories
Item
Overnight
Add. Night
Canoe Paddle
$6
$3
Kayak Paddle
$6
$3
PFD
$8
$4
NRS Straps
$2
$1
Water Camping
Item
Overnight
Add. Night
Dry Bag
$4
$2
Rock Climbing
Item
Overnight
Add. Night
Climbing Shoes
$8
$4
Crash Pad
$12
$6
Packages
Item
Overnight
Add. Night
Happy Camper Single
includes:
1 Backpack
1 Sleeping Bags
1 Sleeping Pads
2-Person Tent
$30
$15
Happy Camper Double
includes:
2 Backpacks
2 Sleeping Bags
2 Sleeping Pads
4-Person Tent
$42
$21