Aquatics
Main Content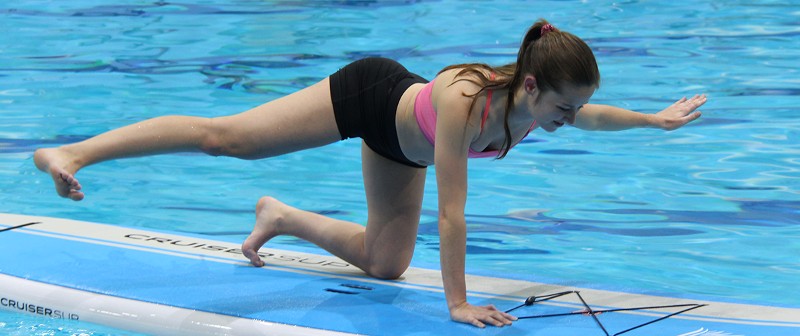 FAMILY FUN SWIM
The SRC is excited to continue Family Fun Swim, a Sunday afternoon program open for anyone (including non-members) to come in and enjoy the water. Family Fun Swim will take place from 2:00 - 5:00 p.m. on:
Sunday, June 24
Sunday, July 22
You may bring your family – young kids, teens, everyone! – to come and use the Shea Natatorium for a fun afternoon of family togetherness. The SRC will not charge a guest fee for use during the timeframe for Family Fun Swim.

Children must be accompanied by an adult at all times while in the SRC and while swimming. Users must abide by stated SRC entry and aquatic policies at all times. Patrons must be in appropriate swimming apparel which includes proper swim trunks for kids and adults (not cut-offs, jeans, etc) and rubber diapers for small children.
OPEN SWIM
Make a splash at the SRC Natatorium pool during open swim hours.
Monday - Friday:
6:00 a.m.- 9:00 a.m.
11:00 a.m. - 2:00 p.m.
5:00 p.m. - 9:00 p.m.
Saturday:  Noon - 8:00 p.m.
Sunday:  1:00 p.m. - 8:00 p.m.
Long Course set up available:
M/W/F from 6:00 a.m. – 9:00 a.m.
SWIM LESSONS
We offer a variety of swim lessons for our students, members, and surrounding community members. You can now sign up for lessons online from the convenience of your home or office. Alternatively, you can still sign up in person at Member Services located on the 1st floor of the SIU Student Recreation Center. 
Swim Lesson Types:
PRIVATE DIVING INSTRUCTIONS:
Please contact Joy Zhao, SIU Diving Coach for more information at 618/453-2511.