Aquatics
Main Content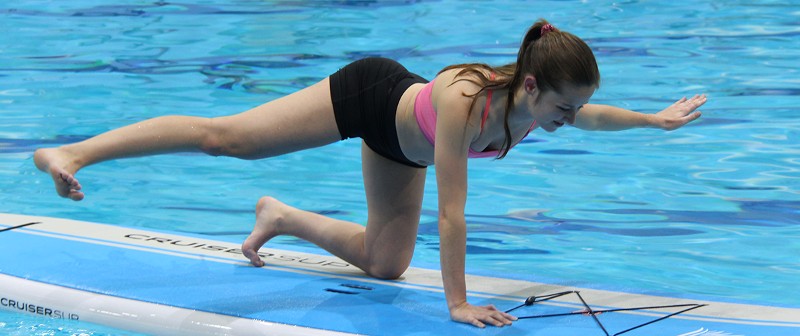 For the safety and well-being of others, please follow recommended CDC social distancing guidelines while in the natatorium
We request the wearing of masks until at the pool edge.
The Following Guidelines are in Place Until Further Notice:
No one under 16 years of age permitted in the pool area during open swim timeframes.
Pool Open for lap swimming/aquatic exercise ONLY, max capacity of 22 lap swimmers.
Pool Perimeter (6 ft radius) is partitioned for entry and exit to lap lanes ONLY. Please minimize time in this area.
Entry to lanes will be staggered to opposite sides to promote social distancing and personal space.

Please do not enter your lap lane at orange coned side of lanes.

Please bring your own equipment (kickboards, etc).

Recreational Sports and Services will not provide equipment.

Deck seating will be limited to permanent 'blue' bench seating.

Grid lines are placed on bench to ensure social distancing during item storage.

Hand Sanitizer will be available at each locker room door.
Please use only personal water bottles. Only bottle fill at water fountain will be available.
Thank You for Being Respectful to Others during this Uncertain Time. We Appreciate Your Help in Making this a Safe and Healthy Environment for All.
-Aquatics Coordinator Jared King and RSS Staff
OPEN SWIM
Make a splash at the SRC Natatorium pool during open swim hours.
SWIM LESSONS
Due to COVID-19 precautions, Youth Swim Lessons are canceled until further notice. Updated
When swim lessons resume, our offerings include:
Youth Swim
Adult/International Swim
Private Swim Lessons