Aquatics
Main Content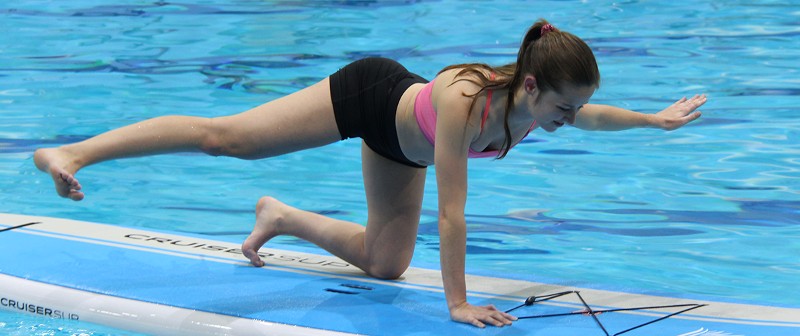 The Rec is home to an Olympic size pool (25 yards by 50 meters) with 1, 3, and 5-meter diving boards. Whether swimming for fitness or fun, you can feel at home here at the Shea Natatorium. If you are a swimming fan, cheer on our SIU Swimming and Diving teams.
The SIUC Pool has the activity for you. We host programs all through the semester for you and your friends. Try slacklining, take our leap of faith off of the 5-meter platform, play water polo, try your hand at live-action battleship, join the Saluki Masters Swim Club, become an American Red Cross Lifeguard or Lifeguard Instructor, learn how to scuba dive, or come for a leisurely float.
Don't know how to swim? The pool can still be one of your top destinations. SIU Recreational Sports and Services hosts swim lessons for both adults and kids. Our pool clinics are perfectly designed to help you start your journey as a swimmer, and our youth swim lessons are open to all kids ages 6 months old and up. We host private lessons for all ages if you want one-on-one instruction.
Come splash with us in Aquatics!
Long Course:
Unavailable for the 2023-2024 school year. 
Swim Lessons:
Private Swim Lessons Limited spots are available. Lessons are in quantities of five 35-minute lessons. $150 for Community, $125 for Students: Follow this link to register for your spot today.
Youth Swim Lessons occur each Fall and Spring. 
$70 for Community, $60 for Students/Members