Youth Learn to Swim
Main Content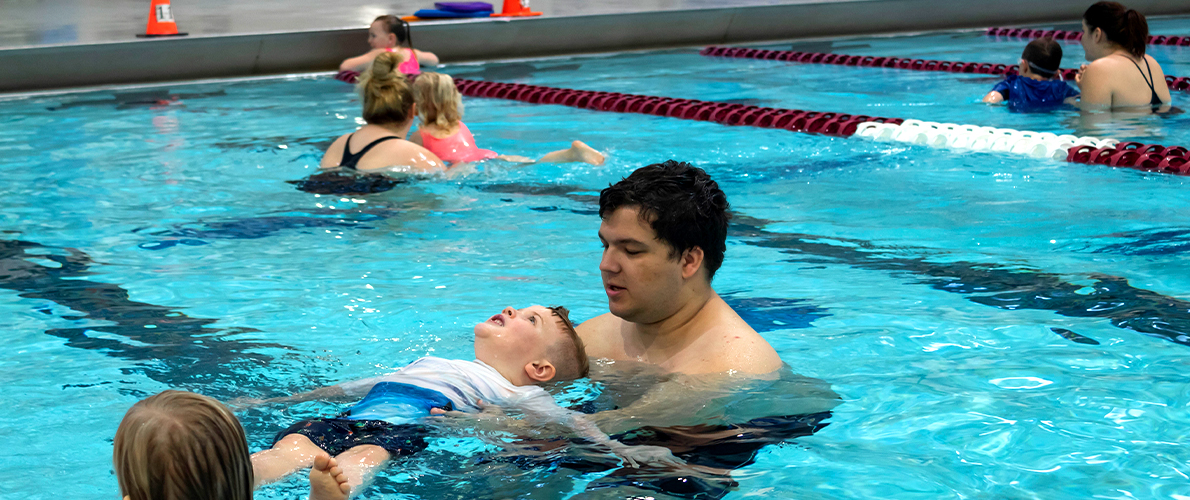 Join Us for Youth Swim Lessons!
Our experienced swim instructors are ready to help your child take the next step to become confident in and around the pool. Participants of all swim backgrounds and ages 6 mo and up are welcome to enroll. Limited spots are available!
Session 1
Saturdays, January 22 through February 26, 2022
10 a.m. or 11 a.m.
SIU Student/RSS member: $45
Non-Member: $55
Session 2
Saturdays, March 19 through April 30, 2022
10 a.m. or 11 a.m.
SIU Student/RSS member: $45
Non-Member: $55
New to water? Start Here!
Parent and Me (6-24 mo old)
This class is a parent-in-water class for children and infants. Here we help new swimmers get comfortable in the water, build basics of safety and body positioning, as well as give take-home drills to do on your own.
Parent and Pup (24 mo - 4 years old)
This parent/toddler class is designed to build the swimming foundations needed to learn more advanced safety concepts and skills. Participants will begin floating, changing body position, entering and exiting, and submerging.
Paddle Puppies (3-5 years old)
This is your swimmer's first splash by themselves. Here we continue to develop foundational skills needed to become a self-sufficient swimmer. Students will focus on pool safety, underwater exploration, breath control, flutter kick, and body positioning.
---
Dawg Paddlers:
This Advanced program is for participants ready to take the next step as a swimmer. Swimmers must be comfortable submerging fully and able to support themselves comfortably in the water.
Level 1 (4-6 years old)
Here we continue to re-enforce foundational skills and safety while introducing the first concepts of front crawl, backstroke, and breaststroke.
Level 2 (5-7 years old)
Swimmers learn advanced safety skills and concepts while introducing dives, treading water, refining front crawl, and backstroke, and developing breaststroke and butterfly.
Level 3 (6-10 years old)
Swimmers learn swim etiquette for recreational swimming, advanced drills and techniques for front crawl and backstroke, and developmental skills for breaststroke and butterfly.
Level 4 (8+ years old)
Advanced students refine swimming skills, learn how to create swim sets for exercise, and learn basic rescue skills.