Membership Specials
Main Content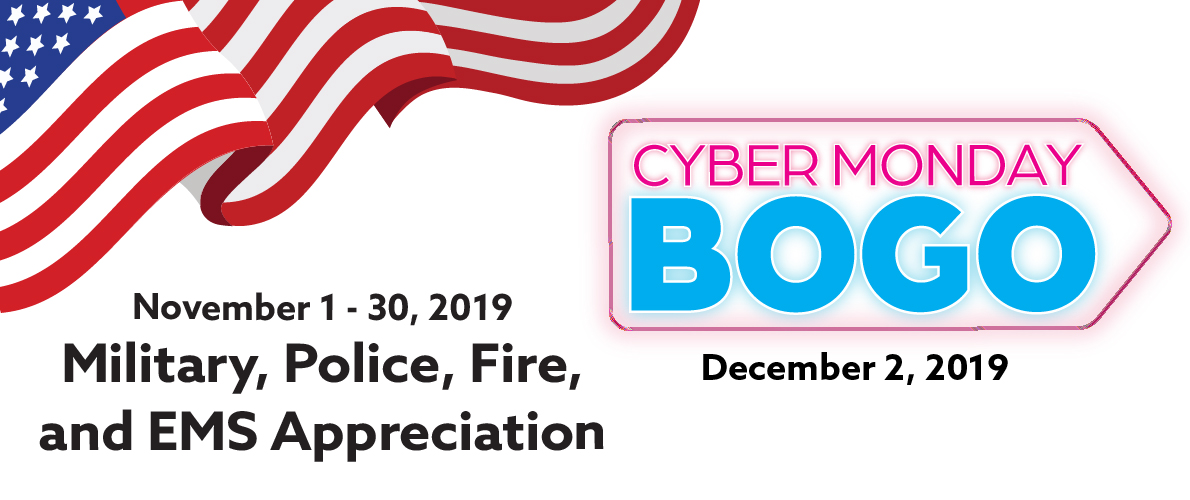 Recreational Sports & Services would like to offer monthly and special offers to the SIU Students and surrounding community members to get people excited about using the SIU Student Recreation Center. Check back here for special offers, discounts, deals and much more. Scroll down for current offers:
November Promotion:  Military, Police, Fire, and EMS Appreciation
November 1 - 30, 2019
New veteran members will receive a free 2-week pass. Current veteran members will receive 15% off their entire purchase. Must show DD214 or ID for verification. Membership must be paid in full at the time of purchase — no EFT or Payroll Deductions. Offer good for the entire month of November.
---
December Promotion:  Cyber Monday BOGO
December 2, 2019
The first 5 new* Rec Members to buy a membership IN PERSON at Member Services on Monday, December 2 between 11 am and 2 pm will receive a FREE membership of equal or lesser value.
Must be a new Rec Member to be eligible — cannot extend current membership or purchase a member for when current one ends.
Membership must be paid in full at time of purchase — no EFT or Payroll Deductions.
Only valid on Memberships and Visit Passes.
* This offer is valid to people who have not had an RSS membership since May of 2019.
---
December/January Promotion:  Winter Break Student Pass (Non-SIU Students)
December 13, 2019 - January 12, 2020
Non - SIU students
$30 Pass (not prorated)
Pass valid Dec. 13, 2019 through Jan. 12, 2020
---
January Promotion:  Community Day 2020
January 12, 2020
Community info and link to page.
---
February Promotion:  Refer a Friend
February 1 - 29, 2020
All members are encouraged to refer a friend to become a member! Members who refer a friend will receive a $10 credit towards a future membership. Friends who are reffered by a Member will receive $10 off the cost of a new membership.
Members can be credited $10 up to 5 times for a maximum credit of $50 if they refer up to 5 new members. Offer good February 1 - 29, 2020.
Offer good only for:
Memberships valued at $40 or more
Membership purchases paid in full at time of purchase — no EFT or Payroll Deductions
$10 off new Membership (cannon apply multiple "friends" for multiple savings on one purchase)
All credit obtained through this promotion will expire 5/9/20.
Unused credit may not be redeemed for cash.
---
March Promotion:  Spring Fever
March 1 - 13, 2020
25% Off 10 Visit Pass ($45 instead of $60)
Offer valid March 1 - 13, 2020.
---
April Promotion:  Earth Day Competition
April 13 - 16, 2020
To celebrate the 50th Anniversary of Earth Day, we are bringing back the Earth Day Challenge and giving the winner $50 towards Base Camp Rentals.
Monday, April 13 through Thursday, April 16, submit a photo of yourself "RECreating" in the outdoors.
To enter, email a picture to Khara Burke at khara.burke@siu.edu.
Pictures will be posted to our SIU Student Recreation Center Facebook page (@SIURecCenter) on Friday, April 18.
Vote between Friday, April 18 and Tuesday, April 21 for your favorite picture. Winner announced on Earth Day, Wednesday, April 22.
---
Summer Promotion:  FREE Friend Fridays
May 9 - August 15, 2020
Current SIU students and REC members can sponsor ONE friend each Friday.
Both friend and sponsor must be 18 or older and have a photo ID.